Ron Perry knew he was called to the ministry at the age of 9 when the Lord spoke to him one afternoon at his uncle's farm in Ohio. From that time on, Ron had a strong hunger to know God. His search for God took a Long And Winding Road. Ron was saved at Teen Challenge in Riverside California at the age of 24. Does that tell you anything about his teen years?


Shortly after Ron was born again, God called him to "Take My Song of Joy around the world, not by might, nor by power, but by My Spirit" says the Lord. Immediately, Ron began to write songs and minister them in concerts and meetings of all kinds. Wherever Ron ministers, the Spirit of Joy sweeps over the crowd and people from all walks of life come forward to be born again and to be healed.


In the 90s, Ron found a new and creative way to put the gospel (glad tidings) of Jesus Christ into the language of "every day people" by putting God's Word in lyric form into songs of the 50s and 60s. God has used Sanctified Oldies to draw many souls to His throne of grace.


The mission to "Take the Song of Joy around the World" has taken Ron to many parts of the world. He has ministered in churches, theatres, auditoriums, schools, and prisons all over the United States as well as in Canada, Mexico, Central America, Europe, and Africa. He has appeared on the 700 Club, TBN, and many other television and radio networks. Ron has a heart to reach "every day people" and a ministry of music and preaching that is very effective in reaching people from all walks of life.


Ron has recorded and released several anointed albums on CD and cassette. His latest music releases are Saturated and Sanctified Oldies, volumes 1, 2, 3, and 4. and I Will Not Compormise. The music contained in these albums, though evangelistic in nature, have greatly blessed the body of Christ all across the nation and overseas. There is a "joy unspeakable and full of glory" that radiates out of Ron's life and ministry. This joy is coming soon to your area.





Ron Perry's Personal Testimony


I was born and raised in a home full of love and support. Whatever I did, my parents and my sister were right there helping me and encouraging me. Although we attended church regularly, we were not Christians.


I remember going to visit my Uncle Roscoe and Aunt Louise on their farm every once in a while. They were real Christians. I could feel the presence of God on that farm. One day, when I was about 9 years old, I was lying in the grass on the farm looking up into the clouds and wondering what was out there. Suddenly, the Lord spoke to me. I don't remember word for word what He said, but this is what I remember. He said, "Before you were born, I knew you and I chose you to be my helper." "I will keep you and no harm will come to you until you have completed the work I have given you."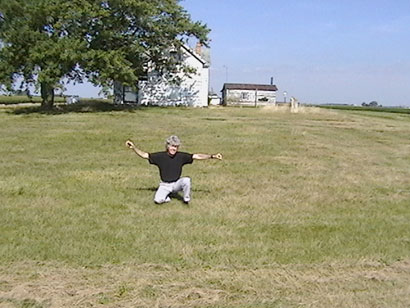 I never told anyone about this incident until I was in my 20s, but after the Lord spoke to me that day; I always had a sense of peace and safety. I lost that peace in my teenage year when I started using drugs.

I stopped going to church when I was in Junior High School and formed my first band. We practiced nearly every night and played gigs nearly every weekend. I knew God was real. He had spoken to me, but I was not a Christian. I was not born again.

One Sunday morning, when I was about 15, I woke up early in the morning. I wanted to talk to God, but I couldn't find Him. I went to a church in my hometown that morning. I wanted to be with God so much, I could hardly stand it. I sat down in the front row of this church. The pastor introduced the guest speaker for that day. My insides were crying out to God. I was ready to run to the altar, pray, repent, do anything to get close to God. The guest speaker was a man who was running for city office in that town. He proceeded to give a political speech about what he intended to do for our fair city if he were elected. I died inside that day. As I walked out through the large doors to the parking lot after church, I said, "Goodbye God." I hung up the phone on God that day and heard only a dial tone for many years after that.

During the dial tone years, I played music in clubs and used drugs. I went down the same drain that thousands before me had gone down and thousands are going down today. Drug use leads to jail, hospitals, and rehab. It took a crash landing to bring me to my senses.

In 1975 I went through the Teen Challenge program in Riverside, California. There I gave my heart to Jesus Christ. On day, a group of guys at Teen Challenge, gathered around me, laid hands on me, and prayed for me. I had taken so much acid (LSD) that I could no longer talk or function normally. I would sit and stare at the floor all the time. When these guys laid hands on me and began to pray, I felt the fire of God go through my whole being. God healed me that day and restored my communicative faculties. I accepted Jesus Christ as my Savior and Lord and gave Him my whole heart.

Since then, I have been traveling the world singing, preaching, and testifying of the joy of salvation. God has taken me all over the United States, all over Mexico, into Central America, Canada, Europe, and Africa. The Lord has kept His Word to me and kept me all these years. He has given me a ministry of restoring the joy of His salvation. Wherever I minister, God floods the house with His heavenly joy. He also confirms His Word with signs following. I have been blessed to see people's lives restored, blind eyes opened, paralyzed limbs instantly healed, and much, much more. People are finding the joy of salvation all over the world and the best is yet to come. I'm glad to be alive and serving Him.